Cette semaine, vous avez peut être remarqué sur vos réseaux des internautes de plus en plus nombreux à rejoindre Vero. Ce nouveau réseau social en vogue a titillé notre curiosité.
Qu'est-ce qu'il a de spécial ? Et pourquoi tout le monde le rejoint soudainement ? Et surtout : peut-il se faire une place aux côtés de Facebook et Twitter avec pour handicap de porter comme nom le diminutif de Véronique ?
Vero Origins
À l'heure où j'écris ces lignes, beaucoup de gens s'inscrivent sur ce réseau « pour tester ». Pourtant la création du réseau social par une fortune libanaise au cœur d'une polémique date de 2015  : s'il a le vent en poupe en ce moment, c'est surtout dû au fait que de nombreuses personnalités influentes ont rejoint et promu cette plateforme. Ajoutez à ça un effet d'annonce un peu nébuleux garantissant la gratuité au premier million d'inscrits et vous avez de quoi devenir la coqueluche des médias techs.

En quoi ce réseau est spécial ?
On a fait le test à l'Oeil, le temps d'installer l'appli qui rame, de s'inscrire et nous voilà transporté sur une belle interface. À première vue on dirait surtout un croisement entre Facebook et Twitter. Rien de neuf si ce n'est une interface très agréable. Un bon point pour la simplification d'édition sur la vidéo où il est possible de couper la vidéo et y appliquer des réglages comme sur un post Instagram. Sur le contenu il faut noter l'absence de « pages », uniquement les personnes physiques peuvent s'inscrire. Positionnement de l'appli ou ajout technique à venir ?
En avant le social branling
À l'image de Google+ et ses cercles ou de Facebook et ses groupes d'amis, Vero utilise un système pour filtrer ses publications selon le degré d'intimité que l'on veut garder. Tout semble tourné sur le fait de choisir qui voit ou ne voit pas ses publications, ce qui me dérange et à mon sens oriente nos comportements vers un social branding schizophrène.
On s'exprime et dégage une image différente selon les réseaux qu'on utilise car chacun d'entre eux est destiné à un public précis : connaissances et famille pour Facebook, professionnels pour LinkedIn, passionnés sur Tumblr etc. Un réseau sur lequel n'importe qui peut suivre n'importe qui d'autre et sur lequel on peut choisir son niveau de portée sous-entend une production de contenu très lisse, surtout sur un réseau dispensé de pages, où on peut imaginer chaque producteur de contenu relayer depuis son profil à défaut d'avoir une page.
Social Media according to The Breakfast Club ???? pic.twitter.com/lvBNUQiwRI

— Ashley Kamrath (@AshleyKamrath) November 3, 2017
Un p'tite place ?
Reste-t-il de la place pour un nouveau réseau social en 2018 ? Snapchat , le dernier à avoir réussi l'exploit il y a 5 ans, doit son succès grâce à l'engouement des jeunes et un concept novateur lié à l'éphémère. Pas sûr que Vero apporte ce nouveau souffle, et la courte Histoire des réseaux sociaux nous a bien montré qu'une plateforme s'impose grâce aux soutien des jeunes et/ou de communautés soudées (Facebook, Snapchat, Tumblr, Instagram) qu'en forçant le passage avec des influents (Google+, Ello). Vero a peut être un coup à jouer avec le parti pris de ne pas inclure de pages : après tout de nombreux utilisateurs de Facebook désirent consommer un réseau social sans devenir pour autant du bétail pour les pages de marques.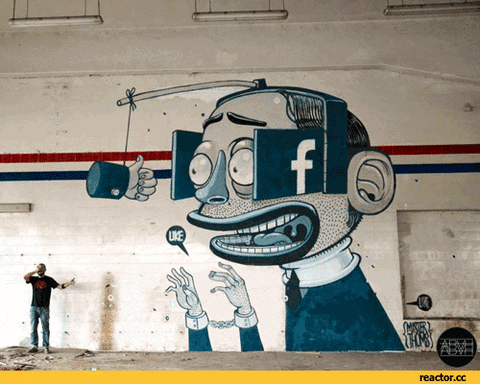 Malgré ce constat d'échec, force est de constater que beaucoup de personnes se sont prêtées au jeu. C'est peut être finalement le plus intéressant à observer dans cette histoire : comment en arrive-t-on à autant d'inscriptions malgré une opulence de réseaux ? On peut imaginer l'envie d'être dans les premiers, ou celle d'échapper à des algorithmes de tri de l'information qui nous dépassent, ou encore celle de changer des sempiternels Facebook et Twitter. Je ne sais pas comment interpréter cette donnée, elle hurle mais il semblerait que les journalistes techs qui se sont penché sur le cas Vero n'aient pas tendu l'oreille.
En bref
Malgré une interface léchée et agréable sur la forme, Vero reste dans le fond un copycat de Facebook. À part une mystérieuse annonce de réseau payant et un comportement de mouton de Panurge 2.0 on ne retrouve pas grand chose de nouveau sous le soleil. Reste à voir comment le réseau évolue, en attendant je propose qu'on aille tous regarder nos notifications sur Myspace.